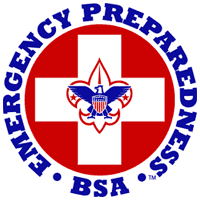 Emergency Preparedness BSA
From its beginning, the Scouting movement has taught youth to do their best, to do their duty to God and country, to help others, and to prepare physically, mentally, and morally to meet these goals. The basic aims of Scouting include teaching youth to tak care of themselves, to be helpful to others, and to develop courage, self-reliance, and the will to be ready to serve in an emergency.
The U.S. Department of Homeland Security has asked the Boy Scouts of America to encourage families, on a continuing basis, to be prepared in case of a national emergency.
For information and an application, click the link to Emergency Preparedness BSA on the National BSA Website.
An important part of this program is the award, a full-color pin, that can be worn on civilian clothes or centered on the left pocket flap of the Scout uniform. These are available in the Scout Shops.